Posted on
By Running Lab Staff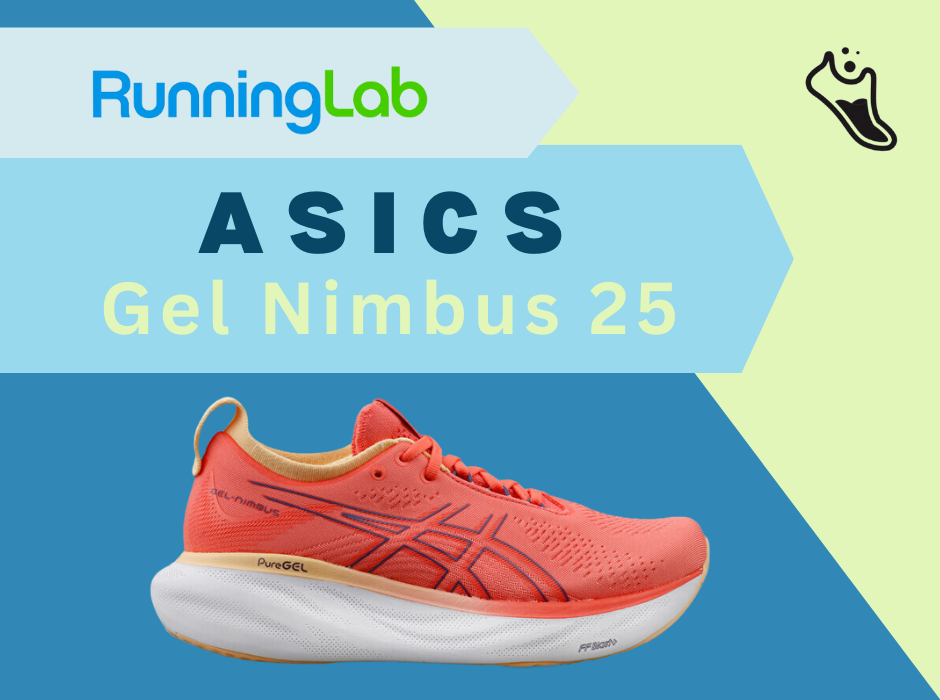 As we welcome back Asics to the Running Lab store, I would like to introduce you to the Asics Gel Nimbus 25! 
A lot of shoes claim to feel like you're running on a cloud but the Gel Nimbus 25 takes the cake. The Nimbus is packed full of mega soft cushioning and a silky knit upper to ensure for a smooth ride and luxurious feel. 
THE FACTS
Support: Neutral
Weight: 10.2 oz (290 g) men's, 9 oz (255 g) women's
Stack Height: 41.5 mm (heel), 33.5 mm (forefoot)
Heel to Toe Offset: 8 mm
Best use: Walking, everyday trainer, long runs, recovery runs
Surface: Road & Pavement
ON THE RUN 
Jacob: While running in the Nimbus, I felt like I was on two big marshmallows the entire time! The Gel in the mid sole was allowing me to float from mile to mile. I felt that the shoe was able to give me good structure and bounce as I was moving. It was as if my feet were in a nice comfy bed with a gel pillow wrapped around each one. As I was hitting my runs in these shoes, I came to miss the cushion when I wasn't in them! A great fit for sure! 
Sidney: Imagine the Stay Puft Marshmallow Man sitting down with his arms straight in front of him and your foot is sitting right in his lap. This shoe feels like Mr. Marshmallow man is hugging your foot. Your heel is cradled on his lap and his arms wrap around your ankle with these little bumpers. It's the softest, lightest, fluffiest hug. 
My first run I felt as if I was effortlessly floating with every strike off of the ground. It's not the lightest feeling shoe on foot but it sure makes up for it by feeling so bouncy. It's as if a trampoline was made out of memory foam. It's doughy soft and absorbing but doesn't feel like an out of control water bed. I went out for my first run with these shoes with the intent to run a mile or two just to get a feel for the shoe. Boy, does the Nimbus know how to make a good first impression. I had a hard time containing my run to four miles, I felt like I could go on forever. 
That being said… the following weekend when it came time for my long run, I thought what would a good shoe reviewer do? Test out a brand new shoe on my long run, duh. Genius idea Sidney. Not. Although my love for the Nimbus still remains, the blisters covering the tops of my toes would like to disagree. Even though that run in the Nimbus left me hobbling for two days I am not breaking up with this shoe. The cloud-like foam is unmatched, I like the Stay Puft Marshmallow Man hugging my foot a little too much to let the Nimbus 25 go. 
THE FIT 
Jacob: The toe box felt a touch narrower, but I felt I was still able to wiggle my foot around enough and have some flexibility. The midfoot was soft and hugged my foot with a good amount of comfort and support. The heel cup was one of my favorite parts of the shoe. It was so soft and and allowed me to sit lower in the shoe, and was able to give my heel such a soft welcome. The collar was another great aspect of the shoe, keeping my ankle in a soft hold. The length was a little off, as I felt myself sliding to the top of the shoe as I ran, causing minor blisters. The tongue is nice and stretchy, wrapping itself around my foot. The whole upper is that similar stretchy material wrapping around my foot. I did feel like the sizing was a little off. I felt myself sliding in the shoe as I ran. 
Sidney: Sliding your foot into this shoe is like putting on Cinderella's slipper. Except Cinderella's slipper looks incredibly uncomfortable and the Nimbus 25 feels like a cloud. The way Cinderella effortlessly slides her foot into the slipper and it's a perfect fit is the same feeling I got when I put this shoe on. Between the OrthoLite X-55 sockliner, engineered knit upper, and that amazing tongue, it's a perfect fit as Prince Charming would say. 
The knit upper on this shoe is so unique. I am personally not a sock-fit shoe fan. However, Asics managed to pull this off. The Nimbus 25 has a slight sock fit with this engineered knit upper, it's unlike any other shoe I have had before. It hugs your foot without suffocating it. It doesn't leave your feet all sweaty and you won't have major lines and indents like your feet just woke up from a really good nap. It's beyond breathable and soft. 
CUSHION 
Jacob: The cushioning is one of the best selling points of the Nimbus. The FF Blast + foam was almost as if my feet were surrounded by a layer of bubble wrap, stuffed into pillows, and encased inside of marshmallow fluff. The soft foam was able to give me a good level of cushion while running on hard surfaces us road runners face daily. 
Sidney: The booty on this shoe is thicc and by booty I mean heel. The cushion on that thing makes me want to heel strike just cause I can. I'm a big cushion gal, I love all of the soft, squishy shoes. If it feels like a cloud or a marshmallow I want it on my foot. This shoe takes the cake because it's got cake. It is the squish of all squish, and the softest of all clouds. A lot of shoes claim the "feels like a cloud" title but the Nimbus 25 deserves a trophy in that category.
When you think of gel in a shoe it sounds pretty heavy and not very responsive but the FF Blast Eco Plus Technology makes for a very responsive toe-off and the PureGEL technology creates a super spongy and lightweight feel underfoot.
STABILITY 
Jacob: With the base being a wider fit, I was feeling stable and secure in my shoes. The size of the base was able to keep me from rolling in or out too much. 
Sidney: A marshmallowy soft shoe has the tendency to feel sort of like a water bed. Take the Nike Invincible or New Balance More for example. Although they are both great shoes, in my opinion, the stability in these two shoes is lacking. The Nimbus is a great option for someone looking for that soft, comfy feel without sacrificing their balance. The sole of the shoe seems to mold around your foot as you sink down into the shoe, this allows for a very stable feeling.
PURPOSE 
Jacob: I would recommend this shoe for either long runs or recovery runs. With the high cushion paired with a heavier weight, this shoe would be better fit for those long runs to help keep your foot fresh, or those slower recovery days to give your feet a nice break.
Sidney: I would recommend this shoe for recovery runs and long runs (as long as you protect your little toes). This shoe is an amazing option for an everyday or walking shoe. It is definitely a top contender for work shoes for me. 
COMPARISON 
Jacob: This shoe is most comparable to New Balance 1080, Saucony Triumph, On Cloud Stratus, Brooks Glycerin, and Hoka Bondi. 
Sidney: I am a big fan of soft, cushy shoes. That being said I was ecstatic about wear testing the Nimbus. One of my favorite shoes to wear when on my feet all day is the Hoka Bondi. The Nimbus is now tied with the Bondi here on this one being my go to everyday wear shoe. It is just as cushy if not more as the Hoka Bondi. 
If you like the New Balance More, Hoka Bondi, Saucony Triumph, Nike Invincible, or the Brooks Glycerin you should definitely give the Nimbus 25 a try!
PREVIOUS VERSIONS 
Jacob: Some of the biggest differences between the Asics Gel Nimbus 25 and the 24 would be the upper being more of a knitted material vs mesh and the foam being slightly more responsive. The exposed Gel near the rear of the shoe is also not present in the 25s, it's tucked inside instead.
Sidney: This shoe has seen major upgrades, especially looks wise. This shoe went from not to hot. It looks so much sleeker. Asics completely revamped this shoe and it looks sick.
Watch out Hoka, pretty soon all the girls on TikTok will have this attractive shoe on their feet, it's that hot. 
The tongue is here to stay! The stretchy tongue that you all know and love stuck around through all the updates.
WHAT WE THINK 
Jacob: The Asics Gel Nimbus is for the person looking for a soft, squishy, stable ride whether they are using them for a running shoe or a daily walker. 
Sidney: I would recommend this shoe for anyone looking for a comfortable everyday walking shoe or someone looking to amp up their long runs with some foam. This would be a great fit for someone looking for something with a stable sole that still wants some squish and comfort.
MEET YOUR REVIEWERS
JACOB
21 year old 
Wears men's size 10.5D
I started running back in 8th grade when I joined the Cross Country team at my middle school, and fell in love with it ever since. I ran throughout high school, becoming captain of the team during my last year. Now, I am enjoying training for my first ever marathon! I usually like to stick to road running, but I am always down for some nature runs. I do work in the running industry as a sales associate for Running Lab. My favorite thing about running is the community. Runners are some of the nicest and most supportive people in the world! I always feel so welcomed by the running community every time I go out for a run.
SIDNEY
20 year old
Wears women's size 8B
I always despised running, it's funny that I'm here now. It wasn't until I got mono and was told I wasn't allowed to run when I decided I wanted to be a runner. As soon as I got the good to go I dived head first into running and soon found Running Lab. My passion for running and shoes has only grown since then. I am yoga teacher certified and currently working on getting my personal training certification. I hope to someday combine all of my passions to create a way to help other athletes with their goals, including nutrition and coaching.