Posted on
By Running Lab Staff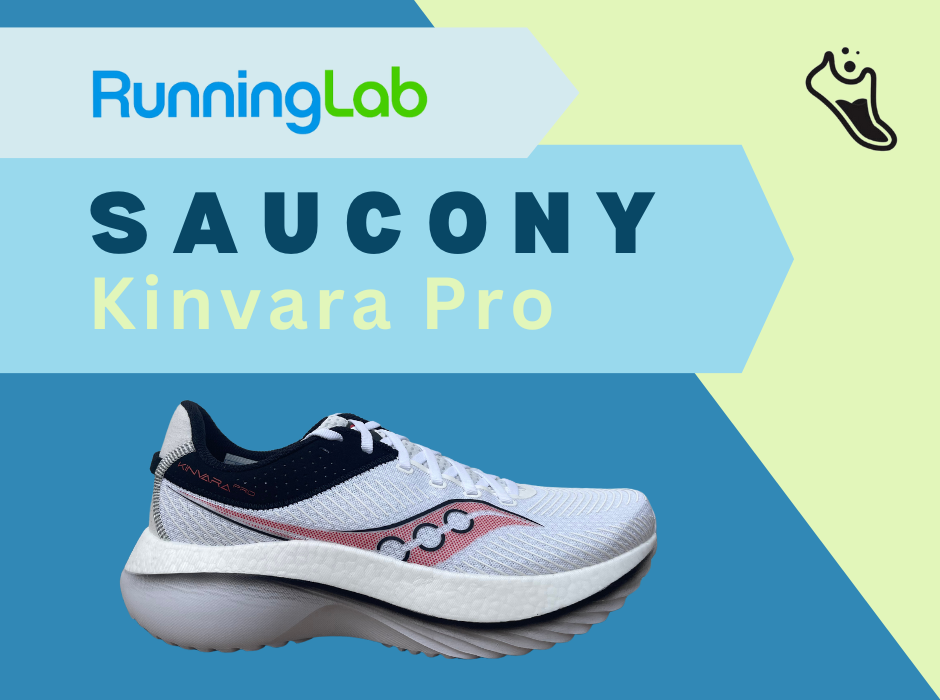 Meet the Saucony Kinvara Pro, the high cushion running shoe designed to give you all the perks of a super shoe for the average runner's daily runs. 
The Kinvara Pro is a super shoe play off of the original Kinvara. Take the original comfort of the Kinvara and add in those super shoe benefits making it the Kinvara Pro! 
THE FACTS
Support: Neutral
Weight: 10.1 oz (286 g) men's, 8.7 oz (246 g) women's
Stack Height: 42 mm (heel), 34 mm (forefoot)
Heel to Toe Offset: 8 mm
Best use: Daily trainer (w pizzazz) 
Surface: Road & Pavement
ON THE RUN 
Kyle: I think this shoe is designed as a cozy recovery shoe, that if you felt frisky you could put down the hammer and do some speed work with. It has a well-rounded roll with the speedroll technology, but seems to minimize a toe-off. In my few experiences in the shoe, I tried to get to an uptempo pace but struggled to do so. Again, if the intent is to make me work harder to get faster, then bravo. However, I do not think most of Saucony's loyal clientele will appreciate this "more pain to get results" version compared to with shoes that produce more flow (see the NB Supercomp Trainer V2 or the On Cloudsurfer).
Joe: My initial run in the Kinvara Pro was quite the treat. Five miles around Kensington Lake on one of our TRL Saturday morning group runs. The rain had just cleared, the steam was rising up from the pavement, and the sandhill cranes were even closer to the bike path - perhaps to see this interesting shoe making its way around the lake. For five miles I effortlessly glided at a tempo pace, feeling strong, responsive strides each time my foot struck the ground.
However, I found that after that initial run, the feel of the shoe changed for me. Maybe it was correlated to an increase in mileage in my 50K training, but that initial responsiveness of the shoe shifted to a comfortable, cushioned stride. After reading up on the shoe on Saucony's social media posts, I've realized that this does fit the bill for their carbon plated shoe for the other 99% of your runs.
My main question is why? After logging 20+ miles in the shoe over 1.5 weeks, I'm still not sure I understand the "why" behind its design and the type of shoe it wants to be. Maybe I'm more of a traditionalist than I realized when it comes to my running shoes, but when I think of carbon plated shoes, in my mind I'm channeling my inner Ricky Bobby..."I wanna go fast!"
With the Kinvara Pro, to run fast, I've noticed you have to work harder. Maybe it is the combination of the PWRRUN and PWRRUN PB midsole providing an additional ounce of squish to each step, or in grand increase in stack height from the non-plated Kinvara, but I've found I settle into a nice easy pace and it's hard to transition out of it. Again, if this is the aim of the Kinvara Pro, it hits it head on. But for me, when I read "Pro" and "Carbon Plate" in a shoe description, my mind is already thinking of wanting to run faster.
THE FIT 
Kyle: Toe box: Wider near pinky toes but secure. Similar to Triumph 21, wider than Endorphin Shift 3. Midfoot: Wider arch support than is typical from Saucony (not as wide as Echelon 9) Heel Cup: Rides a bit higher than Endorphin lineup, achilles should accommodate in most cases Length: Pretty true to size, feels like a nice golf club on the foot Tongue: Adjustable and plush, cozy Upper: Breathable mesh layering, also cozy.
Pretty true to size, possibly a bit small depending on your foot shape/width.
Joe: The toebox did feel snug compared to other size 12.5 D shoes I have from Saucony (which could be described as too many), including the Kinvara 13. I noticed some slight blistering/discomfort on the lateral side of one of my feet. Other than that, I enjoyed the step in experience of the Kinvara Pro. Lengthwise, it runs true to size; widthwise, it felt slightly narrower. 
CUSHION 
Kyle: Cushioning feels soft, but a bit firmer than say the Triumph 21. Bloated, but in a good way.
Joe: Very plush with the higher stack height and combined PWRRUN & PWRRUN PB midsole. Saucony lists the heel drop at 8mm, but I wouldn't be surprised if it compresses slightly with each stride.
STABILITY 
Kyle: The Kinvara Pro is stable, but not to the degree of other shoes, for example, the Triumph 20/21.
Joe: It felt fairly stable, but I don't think I would run on any other surface that pavement/concrete in this shoe. One run was in a dirt road, but it was fairly dry and hard pack on that day, but if there was any rain or moisture on the road, I would avoid the dirt. 
PURPOSE 
Kyle: Recovery, unless you want to hurt your shins and try to go fast.
Joe: I would recommend this shoe for easy runs or recovery runs. As I mentioned earlier, you have to work extra in the Kinvara Pro to go faster, and with other shoes in the Saucony lineup, I would run in those for tempo runs, workouts, or races before I would in the Kinvara Pro.
COMPARISON 
Kyle: Like many Saucony models before it (think the Triumph, Endorphin Pro +, or the Endorphin Rift of late) the Kinvara Pro feels cozy slipping on. But so does the Brooks Ghost, so who am I kidding? Ok in all seriousness, I can't knock the Ghost either (I spent my high school career in them, but times change).
Walking around in the Kinvara Pro gave me a similar feeling to last October when I wear-tested the Shift 3 (which oddly works amazingly as a dance shoe). The Pro has a slightly wider toe bed with a similar onslaught of cushion. The main difference between the Shift and the Pro is that the Kinvara Pro does not seem to want to go fast (like at all). In fact, Saucony may have made the perfect recovery shoe here with a tasteful concoction of cushion.
The Kinvara Pro feels like those old best-of compilation albums they used to make before I was screaming at my parents for food as an infant. It seems like they took that PowerRun cushion from the OG Kinvara outsole, threw in the speedroll tech, and then put brakes on the toebox to prevent massive energy surges. It's like a subdued sports car that looks like it should fly, but it wants to just hit the cruise control at 5 mph under the speed limit. If people want a wild crossover episode with all their favorite characters but limited substance, then the Kinvara Pro might be their baby.
Joe: I don't believe I've run in anything else quite like it. The closest shoe I can compare it to would be the Endorphin Speed.
PREVIOUS VERSIONS 
Kyle: I am taking a user experience design course currently. One of my key takeaways is that the end user needs to come first in design methodology. While many shoe companies like Saucony have to break tradition to push the technology forward in shoes, I wonder what problems this supposed innovation is creating in the market. For instance, why was this shoe made, and who will benefit from this shoe? If you compare the need to innovate versus consistency, it seems that innovation is needed, people need to buy in, and then the shoe needs to remain consistent throughout its life cycle. I struggle to see where the Kinvara Pro fits in the model. It is too different from the original Kinvara to have its namesake.
It isn't like anyone wrote corporate in a cry for help and said that the Kinvara Pro was the shoe they needed in their life. Maybe people do want it. Saucony's website lists the shoe with 5-star reviews across the board. A tapered carbon plate in a neutral shoe that is race day ready for some folks, but maybe not for me. More likely, I have been spoiled with super shoes since the Endorphin lineup has become my go-to for race day. I genuinely think Saucony went to the drawing board and wanted to transfer the Endorphin Shift into this shoe without taking all the technology from it and concatenating it with other great features from their other winners. 
WHAT WE THINK 
Kyle: Saucony created a monster, let it slay a few demons, and promptly caged it. I do not particularly hate or love this shoe. The Kinvara Pro satisfies the job amazingly as a recovery shoe, but at its steep price point of $180, I think you can get more value out of a Triumph 21 for the same purpose. It is the latest example in a long trend of experimentation from Saucony, which is excellent. However, lack of attention to customer needs concerning the shoe may also be its downfall and prevent folks from buying in.
Joe: Going with Saucony's verbiage, the Kinvara Pro is the carbon plated daily trainer for the 99%. If you are looking to keep the consistent feel and response of a carbon plated shoe for your easy days and recovery runs, the Kinvara Pro fits the bill.
Personally, I am still on the fence with the Kinvara Pro. I think a few more dates are needed on the roads to truly tease out its personality and purpose.
MEET YOUR REVIEWERS
Kyle
24 year old 
Wears men's size 9D
I have been running since eighth grade, so coming on 10 years now. I love distances from the 5K on the track to the 50K on the trails. I work at Running Lab part-time and love the community in the running world. I have a local trail project called the Dogstache Project (feel free to find us on Strava and join) that is set up to accommodate varying trail paces and showcase the diverse trail network in the area.
Joe
34 year old
Wears men's size 12.5D
I've been actively running close to 20 years at a variety of levels. I typically log miles through the concrete jungle, but in 2023, I've committed to my big races being out in the trails, culminating in my first 50K this September. I currently work at Running Lab and have worked there for almost 2 years. Two of my favorite things about running are the ability to improve each time you lace up your shoes, and the opportunities running provides us to see the beautiful world that surrounds us as we meet incredible and inspiring people along the way.