Posted on
By Running Lab Staff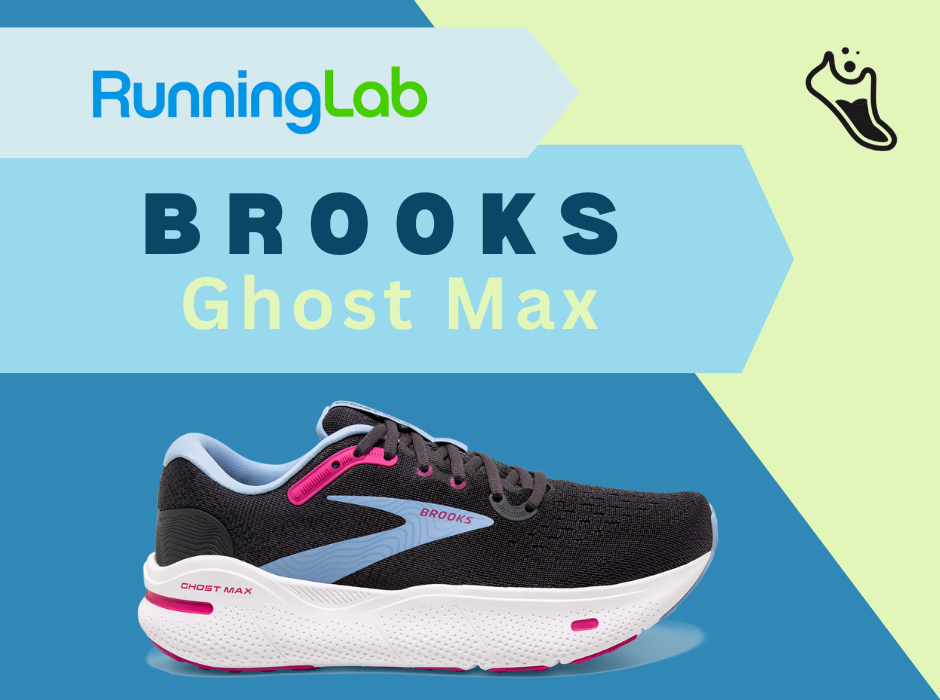 Please welcome the Brooks Ghost Max to the Brooks family! With an elevated-stack DNA LOFT v2 cushioning combined with the GlideRoll Rocker, this shoe reduces pressure beneath the foot, ensuring a comfortable and protective experience.
Check out what our wear-testers, Ken and Toni have to say about this exciting new addition. 
THE FACTS
Support: Neutral
Weight: 10 oz (283g) men's, 9 oz (255g) women's
Stack Height: 39 mm (heel), 33 mm (forefoot)
Heel to Toe Offset: 6 mm
Best use: Daily trainer, walking, everyday 
Surface: Road & Pavement
ON THE RUN 
Ken: I have to preface this answer with this would not be the first shoe I would choose when I think of my daily trainer. It is much heavier, and more cushioned than what I like to wear...however, this shoe surprised me in terms of bounce. Its not super foam bounce, but it was bouncier than what I expected to feel.
I did feel the weight of the shoe and I did not love that. I didn't feel like I could have fast turnover in it but thats not the goal of this shoe. The transition from heel to toe was great. This is going to be a smooth shoe for someone that heel strikes or runs midfoot. I only had time to run twice in this shoe but both times I could feel the shoe getting less stiff as the run progressed. I also felt the reduction in stiffness as I continued to wear it around casually. The shoe breathed well in the upper and my foot felt comfortable in it during the entire run.
Toni: I was apprehensive for my first run in the Brooks Ghost Max as I tied my shoes the following questions popped in my head. Would this shoe be too much foam? Is the last a little too ridged for my liking? Would my body respond well? I am happy to say that all of my anxious questions turned out to not be true.
Running in the Brooks Ghost Max I felt cushion but it was a supportive type of cushion that seemed to always give me back the energy I was putting into my stride. This made me forget I was breaking in a new shoe especially a maximum cushioned shoe. I tend to prefer a cushion that is not as high in stack height, but honestly, I did not feel the height of the foam. The rocking effect from the toe off felt natural. It really smoothed out my foot strike, but wasn't "extreme" enough for me to notice it was really even rocking as I lost myself within my run.
The Brooks Ghost Max is essentially replacing the Brooks Dyad, it was really important that I make sure that the shoe serves well as an all day wellness shoe. Some days, I am running in it in the morning and then working in it in the afternoon. Not recommended for everyone, but I really wanted to see what the Brooks Ghost Max can handle. When it comes to a running shoe that I am wearing all day, I am very PICKY! Running shoes sometimes can be uncomfortable when you are wearing them for everyday wear. Immediately, I can tell that the Brooks Ghost Max is BALANCED. I could stand on one leg, pat my head, rub my belly and not wobble from the one legged position I was in. Walking in it felt great. It felt supportive from heel to toe all day long
THE FIT 
Ken: Toebox fit worked well with my foot but I have a borderline narrow foot except in the pinky toe area where I usually need room or it will cause blisters, no issues there. The midfoot locked down well and I did not feel any gapping in the arch. Heel was an impressive fit and I am always very judgmental on heel fit and security. No issues there. Felt great. Length was true to size.
Toni: The fit of the Brooks Ghost Max is very true to size.I wear a women's 10.5 medium and in some shoes, I have to go up to an 11 medium but I did not need to for the Ghost Max. My foot gets a lovely supported hug from the Ghost Max. My entire foot sets in the shoe really naturally without feeling too crowded. Length is great and the width seems to accommodate my foot shape well. I really dislike shoes that tend to be too tight width wise sometimes a slight tightness of the shoe can cause nerve tenderness in the ball of my foot.
Cushioning is a higher stack height than the Brooks Ghost 15 and I was concerned that it would be too much cushion. But Brooks did an outstanding job with this shoe. The heel cup needed a few wears to really lock my foot in place. I did do a heel lock to better secure the fit so there was no looseness in the heel. But after having it for a week, I was able to comfortably wear it without a heel lock. The upper feels very similar to the uppers on the previous Brooks Ghost. Secure, not too thin but thick enough for durability. 
CUSHION 
Ken: I thought the cushioning was the perfect middle road of not too soft and not too firm. A shoe can be too soft which many of these high cushion shoes get wrong. You need the foam to hold some sort of integrity to give the foot some support. This shoe does that which will make it work for not only the runner, but for someone who needs a great shoe to wear all day at work or for walking. This shoe checks a lot of boxes for multiple uses with the cushioning.
Toni: Do you like cushion and support? Then this is the ideal shoe. It was love at first step when I laced up my shoes. The midsole cushion is not squishy (which I appreciated) but you feel that the cushion is there and then it holds its shape. There is nothing more disappointing than a shoe that's soft and loses their loving feeling throughout a run. The linear last plus the higher stack height of the DNA Loft v2 foam makes the shoe very balance for all day wear or great for your long run.
STABILITY 
Ken: For a neutral shoe the Ghost Max has a ton of stability. This is done through geometry and proper stiffness of the cushion. The base on this shoe is a wider base platform similar to Hoka. Many brands are moving to this type of footprint although this shoe is replacing a shoe that already had this platform shape so its not really new for this shoe. The wide base on this shoe goes back to my comment in the cushion section of how this shape caters to a bigger population of people and feet since it can be used for many different purposes.
Toni: This is without a doubt the most stable shoe I have worn in a long time. I usually don't wear straight lasted shoes because they feel too stable to run in. But Brooks did us a solid with the design of the shoe blending many features that we all love most. Cushion + linear last = balance comfy supported run. 
PURPOSE 
Ken: For runners, I would recommend any distance for this shoe but keep it in the recovery run, training miles category. If you want something for speed or racing go with a different shoe. 
Toni: The engineered technology in the Brooks Ghost Max makes it a shoe you can rely on for running, walking and everyday wear. When it comes to running, I would use this shoe as a long run shoe or the comfortable recovery shoe. Due to the amount of cushion and support, I would not recommend the Ghost Max for speed workouts. 
COMPARISON 
Ken: The closest shoes out there to this shoe would be the New Balance Fresh Foam 840, Saucony Echelon 9, and Hoka Clifton 9. All of these shoes offer slightly different experiences but check the same boxes as the Brooks Ghost Max.
Toni: When Brooks named this shoe the Ghost Max, I was worried. Why share the name with a brand new shoe? But alas, Brooks is pretty smart. The Ghost Max has many common traits of the Brooks Ghost 15. Think of a Ghost with more foam and more support. I would also say that Ghost Max is dynamically comparable to the following shoes: Hoka Bondi, New Balance More, Saucony Echelon, and the Brooks Dyad. 
Brooks Ghost 15 (left) versus Brooks Ghost Max (right)
PREVIOUS VERSIONS
Ken: Brooks is marketing this shoe as a new, higher cushion compliment to the Brooks Ghost but it is actually replacing a legacy shoe Brooks has had for a couple decades, the Brooks Dyad. It seems they have modernized a shoe that desperately needed a refresh. Early opinions seems to show that most Dyad customers will be able to move to Ghost Max with no issue.
WHAT WE THINK
Ken: This shoe is meant for someone that is not concerned about weight in their shoe and wants great protection to put the miles in. Durability of this shoe remains to be seen but on paper it is expected to hold up to higher mileage. This shoe is good for anyone who wants a shoe to wear all day and provide the support they need. It might be too much shoe for high school athletes that are lighter body frames.
Toni: The Brooks Ghost Max is designed for the long distance runner that loves cushion and support while hitting new goals and avoiding running in pain. The Brooks Ghost Max is for the walker that wants balanced cushion with support. This shoe is for the hardworking folks looking for relief between them and the harsh ground underneath them causing foot pain. 
Ghost 15 featured on the left, Ghost Max featured on the right. Look at that cushion! 
CLICK HERE to get your own pair!
MEET YOUR REVIEWERS

Ken
40 year old 
Wears men's size 9 D 
Ken, the owner of Running Lab, has been involved in the athletic shoe industry for 19 years in many different facets. Ken started out working at Dicks Sporting Goods for 2 years and quickly realized his passion for running shoes needed to take him further. He moved on to manage two different New Balance concept stores in Wisconsin and Illinois, learning the basics of buying, management, and more precise shoe–fitting utilizing widths and common practices found in traditional sit and fit stores.
Toni
42 year old
Wears women's size 10.5 B
I have been running since 2011 and am in it for the long haul. The longer the event's distance and the more challenging the better. I've been serving the running and walking community at Running Lab in downtown Brighton since 2015. Running is grownup recess. When your life is lacking joy, go run. When you need to be moved by nature, go run. When you want to celebrate your abilities, go run!