Stop by and say "hi" to our staff. You'll find a talented and committed group of runners ready to take you through our custom four step fit process!
Ken, Owner
Ken, the owner of Running Lab, has been involved in the athletic shoe industry for 19 years in many different facets. Ken started out working at Dicks Sporting Goods for 2 years and quickly realized his passion for running shoes needed to take him further. He moved on to manage two different New Balance concept stores in Wisconsin and Illinois, learning the basics of buying, management, and more precise shoe–fitting utilizing widths and common practices found in traditional sit and fit stores.
Toni, Owner
Toni has been working at Running Lab since 2016. She is a motivational trail runner that enjoys inspiring other runners to run trails and to reach new distance goals. Her positive attitude and people-focused approach makes her an incredible contribution to our Running Lab team.
Jen, Assistant Manager
Jen is an active gal with a lot of energy. She enjoys running a variety of distances from 10k's to 50 milers. In her spare time, Jen enjoys cuddling with her dog Mak, cross stitching, hiking, camping and fly fishing.
Keith, Sales Associate & Team Running Lab Captain
In a nutshell, Keith is all about running, dogs, and heavy metal! He started running seriously to stay in shape and do something competitive after his soccer playing days were behind him. Running has since become much more of an obsession and also a very rewarding lifestyle. Working at Running Lab, Keith gets to be surrounded by so many inspirational runners, including my co-workers and the members of Team Running Lab. That inspiration has pushed him to complete races all the way up to 100 miles, which he would have thought unfathomable just a few years ago. He loves the positivity of our running community and being able to help others achieve their running goals through what we do at the store. 

Karen, Sales Associate
Karen is a nature lover. She has been running and hiking for nearly 12 years. She has completed a plethora of races ranging from 5k to 50k. Her dog Lucy joins her on most of her outdoor adventures. Karen's work history in the medical field makes her a great sales associate to listen to your needs and select the shoes that will support your needs best. 
Joe, Sales Associate
Joe has been running consistently for two decades. In that time he's run everything from a coach's 4X100 relay to completing 2 full marathons to stroller runs with his kids. He has coached track and cross country at 3 different high schools. He enjoys watching other improve, while having fun running on any surface either on roads or trails. 
Blake, Sales Associate
Blake is a shoe fanatic who started his shoe-selling journey at Adidas. He learned and gained an appreciation for sneakers, which inspired him to continue down the line of selling shoes. Now he is studying marketing at Cleary University hoping to further spread the love and appreciation he has for shoes to the rest of the world.
Meghan, Event Coordinator
Meghan ran her first half marathon in 2017 and has been hooked ever since! Running Lab's culture and super supportive community is what brought her here. She is looking forward to helping it grow and give back the community that helped shape her into the person she is today.
Chris, Sales Associate
After 35 years in the classroom, I retired from teaching and began my second career at Running Lab in June 2021. I've been involved in high school athletics for every one of my teaching years, have coached at the Varsity and JV levels and have used running as my "therapy". With 24 marathons and 6 Boston's under my belt, I've got the experience and endured the injuries to help you find the right shoes or apparel for your needs.
Kyle, Sales Associate
Kyle is a runner of many talents. He produces multimedia content for Running Lab and is a total shoe geek. Kyle has been running consistently since high school and has recently taken up trail running and triathlons. While his current focus is on perfecting the half marathon, he hopes to run a marathon before the end of 2024. With a diverse background in sales, information technology, and multimedia production, Kyle can pair you with the shoe or apparel that will match your lifestyle.

Sidney, Sales Associate
Is new to running with a few 5ks under her belt and is currently training for her first marathon. She is also a big yoga fan and is working on getting her Yoga Teacher Certification! She hopes to someday mix all of her passions to create a way to help other athletes with their goals including nutrition and coaching!
Aidan, Sales Associate
I started running in 8th grade after joining the track team chasing a girl, but fell in love with the sport as I went into high school. I ran cross country and track all 4 years at Brighton High School, where I dove deep into running and became a super fan at all levels of the sport, from high school to the professional ranks. I am currently serving as the apparel coordinator and distance training chair on the Michigan State Running Club and am planning on completing USATF certification to pursue coaching alongside a future as a high school teacher. My favorite things about running are the community and the feeling of pushing yourself beyond what you thought you were capable of. I've met so many incredible people and made so many friends through my passion for the sport, some of which include my coworkers at Running Lab, where I work as a sales associate.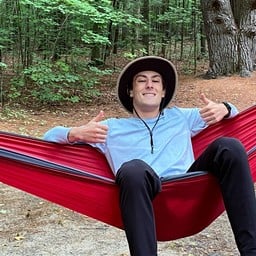 Charlie, Sales Associate
I ran all four years high school for cross country and track. I go to Bowling Green State University and run for their club team. Currently studying interpersonal communication with a minor in marketing.
Jacob, Sales Associate
I was a captain of the track and cross country team in high school, and am currently training for more fun races to come! I am at college at Eastern Michigan studying to become a teacher. 
Anne, Sales Associate
Paul, Sales Associate & 2018 Team Running Lab Coach of the Year
Nick, Sales Associate