Posted on
By Running Lab Staff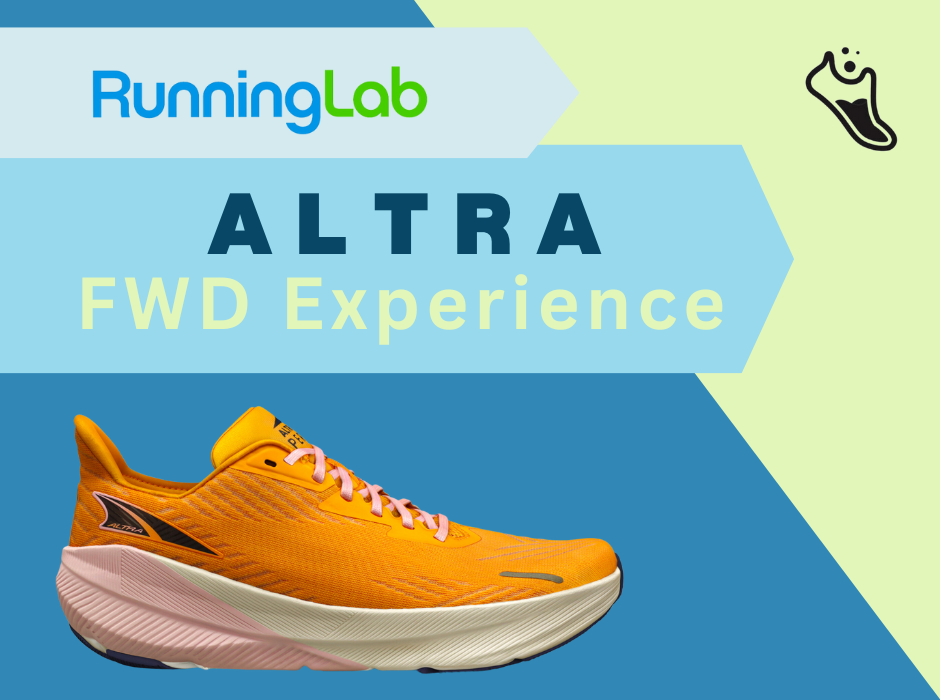 Introducing the newest Altra shoe, the AltraFWD Experience. The same accommodating natural foot shape you know and love but now with a 4mm drop. Altra's first low drop shoe features a rocker shape geometry for a smooth transition. 
Check out what our weartesters, Jen and Keith have to say about this exciting new addition. 
THE FACTS
Support: Neutral
Weight: 8.5 oz (240g) men's, 7.1 oz (201g) women's
Stack Height: women's (26mm/30mm), men's (28mm, 32mm)
Heel to Toe Offset: 4 mm
Best use: Daily trainer, walking, everyday 
Surface: Road & Pavement
ON THE RUN 
Jen: The AltraFWD Experience is the first shoe by Altra with a heel drop above 0mm. The heel offset is 4mm and it is something that customers have been requesting for a few years. I have been wearing Altra's for several years now for work, pleasure, trail/road running and I am not sure if there is one that I haven't enjoyed.
I have done 2 runs in the FWD Experience. The first was for 4 miles at a comfortable pace two days following an ultra trail race. My legs felt fatigued and it felt like I was putting a lot of effort into a run that would normally be easy. I associated that due to post race fatigue. The second run was 8 miles along the same path as the shorter run a week prior and the experience felt the same. However, this time I felt very fresh prior to the run after taking off 3 days prior to the run. It takes a lot for me to get sore following a low mileage run but that night I could feel my feet, hips and calf muscles aching.
Even though I really enjoy working in the shoe and using for pleasure, I was disappointed by how my body felt during and after running in it. It seems to me that the foam composition that was used for this shoe is not as responsive and springy as their other models.
Keith: The firm snappiness and smooth transition of the AltraFWD Experience makes it extremely enjoyable to run in. My most recent training shoe is a higher, softer cushion option. While the comfort for long miles has been excellent, I didn't realize how bogged down the response was until my first run in this shoe. My legs came to life as the turnover became easier and easier with each mile. I quickly forgot the odd sensation of running in a non 0-drop Altra and just had fun running in a solid, lightweight, no frills running shoe. No frills does not mean low comfort. I have gone up to 16 miles with happy feet the whole way. It felt great on pavement, treadmill and dirt road. I will be pushing for Altra to make this in a trail option as well. I could see this becoming that one shoe I always bring with me wherever I go. 
THE FIT 
Jen: I love everything about the fit in the toebox, midfoot and heel cup. The size runs a little small. The tongue is soft and comfortable and the upper is breathable and does not cause any irritations or hot spots.
I was only able to feel the 4mm heel offset if I had an Altra Torin on the other foot for comparison. I think that is important to note so that the avid Altra wearer who loves the 0mm heel offset will not be deterred from wearing.
Fits a little on the small size. I normally take 8 in all Altra's and this 8.5 surprisingly fit well.
Keith: The toebox of the AltraFWD Experience is slim in Altra World. It's still a bit roomier than your traditional running shoe, so I did enjoy the spread my toes felt. The material is smooth and soft where it does make contact on the top of my foot. The midfoot is supportive and and form fitting. Because of the curved outsole, I could really feel the middle of my arch being propped up a bit when compared to my other Altra's like the Torin. My heel slides right into the cup like it's a bucket seat in a sports car. I have a fairly narrow heel and had no problems with it slipping or moving side to side. The tongue is soft and stays put, adding to the comfort of the rest of the upper. 
I am always between a 10.5 and 11. The 10.5 felt really good, but I probably would have loved it even more in an 11. If you are between sizes like me, go with the larger of the two.
CUSHION 
Jen: As mentioned above, I did not feel any feedback, response or spring from the FWD Experience while I was running. To reaffirm what I was feeling after the second run with the FWD Experience, I decided to put on my current road running shoe for a half mile run and my legs felt good, springy and fresh.
The cushion overall though is great. A little more firm than the Torin 7 but comparable in cushion amount and more stable than the Torin 7.
Keith: The cushion of the FWD Experience is not exactly soft, but there is enough of it, if you know what I mean. The thickness of the foam is just right in order to provide that really responsive, bouncy ride that lets me run so effortlessly in it. 
STABILITY 
Jen: Yes, the shoe feels stable. As mentioned above, I would put the cushion level in the same category as the Torin 7 but it is slightly firmer. 
Keith: This shoe feels stable from side-to-side, but with the curved heel it does give you that rocking horse feel that is reminiscent of Hoka's metarocker platform. That's not a bad thing unless you are going to be standing in one place, which will never be the plan for these shoes. 
PURPOSE 
Jen: For me personally I would recommend the FWD Experience for runs up to a half marathon distance. Given how light weight it is, I could see myself using it for tempo runs as well.
I really had high hopes for this shoe and I believe that it could be great but I would like to be able to really get an "experience" from it. Unfortunately, it is not quite there yet.
Keith: The AltraFWD Experience is truly a multi tool of a shoe. It is light and snappy enough for tempo runs and speed workouts, as well as comfortable enough for a carefree long run. 
COMPARISON 
Jen: I would compare this to the Topo Fli-Lyte or Saucony Kinvara but with a little more cushion.
Keith: I feel some of the direct competitors to the AltraFWD Experience would be the Hoka Rincon or Mach 5, Saucony Kinvara 14, Topo Specter, Brooks Hyperion or Hyperion Max, New Balance Fuelcell Rebel, or Diadora Equipe Nucleo. When compared to all of these the FWD Experience stacks up well. To me it is more durable, stable, and comfortable than the Specter which is the only competitor with a comparably wide toe box. The transition of the 4mm, slightly rockered platform also makes it feel smoother underfoot than most of the others listed here, with the closest comparison being the Mach 5.
WHAT WE THINK
Jen: The Altra FWD Experience could be for a wide range of people. Altra has really opened the door to what they offer to more people with this new model.
For those that have been a little hesitant to try Altra because of the 0mm heel offset, now you have the option with a little heel lift to be able to experience what the brand offers.
I would recommend this shoe for people for what it can offer with the anatomical toe box shape, the amount of cushion and the big change in the heel offset. I hope Altra continues to innovate and engineer the foam used on the first version in order to make the predecessors more responsive.
Keith: I would recommend this shoe to anyone who is looking to try Altra, but is not convinced that the 0-drop platform is right for them. Or, honestly, for anyone looking to try a new lightweight, fun and fast training shoe. 
MEET YOUR REVIEWERS

Jen
42 year old 
Wears women's size 8.5 B 
Running has been a huge part of my life for 20+ years. I enjoy running trails the most as it allow me to be in nature, it challenges myself more with different terrains and allows me to be flexible with my distance whether long or short.
I have worked in the running specialty industry since 2014 and I am fascinated by how much change there has been through the years. The constant science and innovation on footwear definitely keeps us all on our toes.
I do a wide range of distances and enjoy any day that I am able to get out and run. I love being able to talk to people about running and their personal goals. I get most excited when I can help first time runners and offer experience and advice. My favorite thing about running is how it makes me feel during and after. It has given me the chance to meet many people from all walks of life.
Keith
39 year old
Wears men's size 10.5 D
Running has always been a part of my life. When I was younger it was mainly a way to stay in shape for soccer; running track in the off-season was a way to train hard and stay competitive. I liked it, but it wasn't until my first marathon in my late 20's that I really fell in love with running. Since then I have completed 9 marathons, a 50-miler, and two 100-milers while also competing in countless 5k, 10k, and half-marathon races. I enjoy running just about anywhere except the treadmill. I prefer trails in the woods to the road and my favorite spot so far is Corsair Trail System in the Huron National Forest near East Tawas, MI. I also frequent the many trails we have in Southeast Michigan. I currently work at Running Lab and have worked there for a total of just over 5 years. My favorite thing about running is that it can be super competitive yet the running community is so supportive of each other.