Posted on
By Running Lab Staff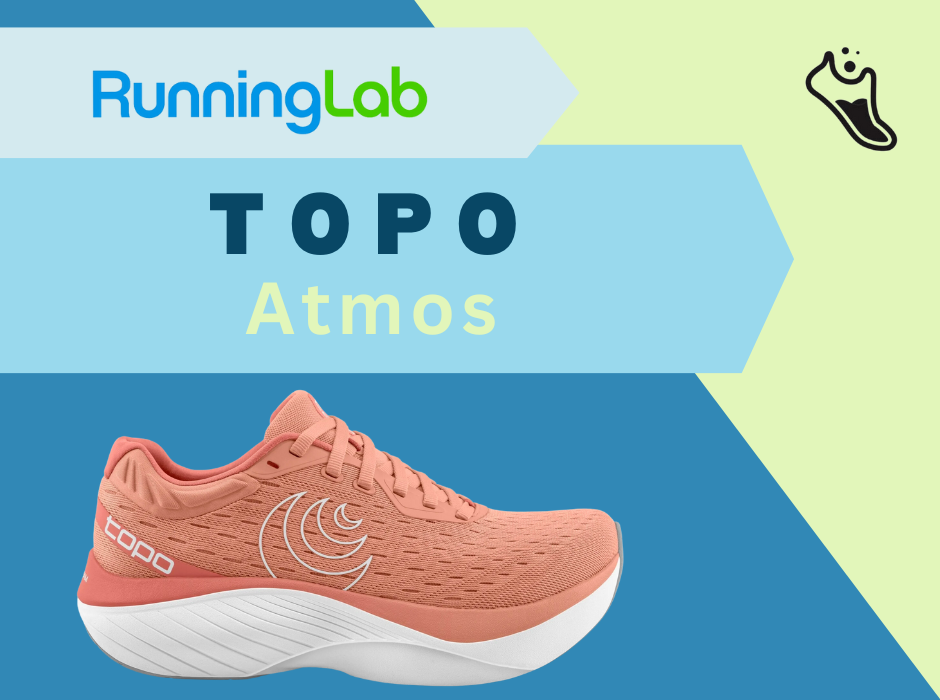 It's about time Topo hopped on the max cushion trend like everybody else, and they nailed it. Meet the Topo Atmos, that signature Topo fit and feel with the most cushioning yet. 
THE FACTS
Support: Neutral
Weight: 9.7 oz (275 g) men's, 7.9 oz (224 g) women's
Stack Height: 38 mm in heel, 33 mm in forefoot 
Heel to Toe Offset: 5 mm
Best use: Daily trainer, easy days
Jacob: My runs in the Topo Atmos have been mostly amazing! Topo is venturing out into the world of high cushion, and they nailed it for the most part. I am a fellow who requires his shoes to have the MOST cushion under them for me to be successful, and that's exactly what the Atmos did for me. The entire shoe from heel to toe has a thick layer of Zipfoam to help cradle my feet as I go about my run. For a high cushion shoe, they are very light, helping me feel like they were not slowing me down. My only complaint was in the arch. I felt the arch to be a touch aggressive at points of my run. It was not a debilitating feeling, but I did notice it for sure. I would say the Atmos is like a jellyfish. Nice and soft and squishy but can sting you if the arch hits wrong.
The toebox has the classic fit of a topo shoe; nice and wide! My toes had so much room to wiggle around, I felt like my foot was in a mansion! The midfoot hugged me nice and snug, which was comfortable. The heel cup really was able to secure my foot in the shoe without using too much material to lock me in. It was a lightweight collar that kept me in place, which was a welcoming sight. The length felt great, a very true to size fit for my foot! The tongue was a a lightweight material that stayed in place, but I wish it was a tad longer. My laces are an inch away from falling over the top of the tongue and touching my ankle. The upper was one of my favorite parts of this shoe! A nice breathable upper allowed my foot to keep cool during my hot long runs. Another plus is it runs true to size!
The cushion is the main selling point for this shoe. This is Topo's first try with a high cushion shoe, and they hit the mark. It's a reasonable stack height, and the Zipfoam is the perfect amount of squish.
This shoe is more of a neutral shoe, but I would say it did a good job keeping me stable. The base of the shoe is nice and wide, so I never felt to wobbly in them. 
I would say the Atmos has a wide range of distances it can be used for, but I will keep it for either a long run shoe or a recovery shoe because of that stable cushion.
This shoe has a similar feel to the Brooks Glycerin, New Balance 1080, Diadora Vortice, and same stable wide base as the Altra Via Olympus 2.
Click HERE to get your own pair! 
Meet your reviewer
Jacob
I started running back in 8th grade when I joined the Cross Country team at my middle school, and fell in love with it ever since. I ran throughout high school, becoming captain of the team during my last year. Now, I am enjoying training for my first ever marathon! I usually like to stick to road running, but I am always down for some nature runs. I do work in the running industry as a sales associate for Running Lab. My favorite thing about running is the community. Runners are some of the nicest and most supportive people in the world! I always feel so welcomed by the running community every time I go out for a run.